Knight Marine Service has been providing Maine's boating community with outstanding service since 1967. We're a full-service boatyard and marina. If you need something you don't see here – ask us!
If you're looking for a transient slip o r mooring, please make a reservation with us at 207-594-4068 or message us on FaceBook.
 
Some of what we offer:
General Labor – $80.00 per hour
Specialized Service Labor- $90.00 per hour
Step/unstep mast – $280.00 
Travelift short hauls – $7.00 per ft.
Seasoal car parking – $250.00 Memorial Day to Labor Day
Daily car parking – $12.00
Seasonal Moorings – $1200.00 (includes 1 car parking space, dinghy dockage, showers)
Summer storage outside – $26.00 per ft. (June 21 to Sept. 19)
Summer storage inside – $46.00 per ft. (June 21 to Sept. 19)
Winter storage outside – $42.00 per ft. (Sept. 20 to June 20)
Winter storage inside -$62.00 per ft. (Sept. 20 to June 20)
Dinghy Dockage – $325.00 (includes 1 car parking space)
Mast storage – $4.00 per ft.
Inside dinghy storage – $400.00

 

Winterizing engine -$200.00 plus cost of antifreeze

Shrink wrap – Outside contracted service, rates upon request
Boat painting and repairs
Metal fabrication and welding
Local boat delivery
Fuel and water at the dock (Gas and diesel available May to Oct.)
Docking and moorings
Take out lunch and dinner
Showers
Dock store with essential supplies, maps, ice, and even gifts such as local-made hand-blown glass jewelry
Phone 
Laundry
Live lobsters
General parking
Our full-service yard is equipped with two Marine Travelifts for hauling out, and a hydraulic trailer for boat transportation. We provide winter storage inside or out. We do repairs and restorations of all kinds, including sanding, painting and outfitting. There is a small Lunch Take-Out with tables on the dock. Vehicle access is easy. We can accommodate large cruising groups and have a skippers meeting space for them to use.
We accept checks, Visa and Mastercard
We are a 5-minute walk to downtown Rockland and a 3-minute walk to a motel with restaurant and lounge.
Directions to us by water:
Refer to U.S. Coast Guard Chart #13305. KMS is directly beside the Maine State Ferry Service to Vinalhaven – North Haven. Run West from the Rockland Breakwater.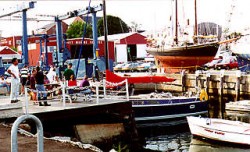 Directions to us by land:
Knight Marine Service is located at 525 Main Street in Rockland directly next door to the Maine State Ferry. Main Street is also U.S. Route One and runs through our historic downtown district on its way from Fort Kent to Key West.