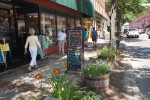 Because Knight Marine Service is located in a very accessible area, it should not be a problem for you to find things to do. Within walking distance we have downtown Rockland's Main Street – antique shops; sporting goods; book stores; flowers and gifts; music and art galleries; hardware and kitchenware; motels; clothing; jewelry; photo supplies and much more.
Visit the Chamber of Commerce and the NEW Lighthouse Museum near the harbor on lower Park Street.
Rockland is the home of the world famous Farnsworth Museum, Shop, Homestead and the beautiful new Wyeth Center. The Strand Cinema has two theatres showing first-run movies nightly. Numerous restaurants and lounges, banks, churches, libraries and the Shore Village Lighthouse Museum are all nearby. A large playground near the Rockland Post Office is great for boat-bound children. Explore our working waterfront. On Fisherman's Wharf you can walk the 1/2 mile boardwalk south of the Public Landing.
Festival events are ongoing. The Maine Lobster Festival is always the Wednesday to Sunday of the first weekend (that includes a Saturday) of August. North Atlantic Blues Festival is the weekend following the 4th of July—it is the premier event for the area which brings many boats and many people.
With a car your choices are limitless. The State of Maine Museum in Augusta is a little known treasure. Camden is 8 miles north on Route 1; Thomaston is 5 miles south. The Knox County Airport and Owls Head Lighthouse are a 10 minute drive. Visit the Samoset Resort and Golf Course or walk out a mile on the Rockland Breakwater. (It might be easier to sail out from KMS!)
Whatever you like to do – see one of us and we will help.
Here are links to some of Maine's best resources: